Dentures
Our goal here at Mountain Springs Advanced Dental is to provide precise, quality support for all of your dental needs in one convenient location. This includes solutions for missing teeth, customized to fit your unique needs, preferences and budget. Missing teeth can have a significant impact on your quality of life and oral health as a whole. Common adverse effects include:
Speech difficulties
Shifting teeth
An abnormal bite
Bone loss
Difficulty chewing
Wear on remaining teeth
Problems with the jaw joint
As your oral healthcare provider, we want you to stay as healthy as possible, so we make it a priority to ensure you have a complete set of functional teeth. For patients who are missing all or many teeth, Dr. Patterson may recommend complete or partial dentures.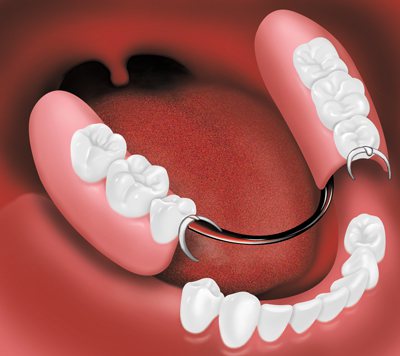 PARTIAL DENTURES
A partial denture is used to replace several missing teeth in proximity to one another. With a traditional partial denture, metal clasps are used to grab onto the surrounding teeth to hold the prosthetic device in place. Acrylic is added to the metal framework of the partial denture to replicate missing gum tissue and prosthetic teeth are added to function in place of the missing teeth.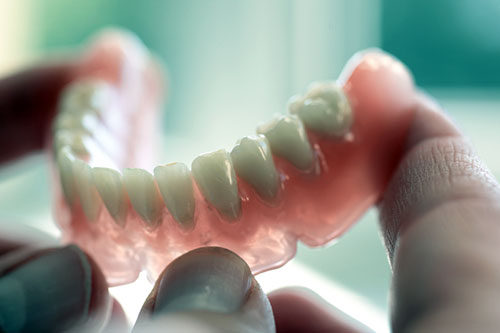 COMPLETE DENTURES
A complete denture is used when a patient is missing all of his or her top teeth or bottom teeth. Dentures consist of prosthetic teeth aligned in an acrylic base designed to simulate the lost gum tissue. The size, shape, color and positioning of the teeth is customized for each patient to provide optimal aesthetic quality and functionality for speech and eating.