Dentures
Our goal here at Mountain Springs Advanced Dental is to provide precise, quality support for all of your dental needs in one convenient location. Our ideal is to help you keep your natural teeth in a healthy condition as long as possible. However, sometimes teeth are lost or cannot be saved. For those patients who are already missing teeth, or who find themselves in the situation where they will be losing teeth, we can offer solutions customized to fit their unique needs, preferences and budget. Missing teeth that are not replaced can have a significant impact on your quality of life and oral health as a whole. Common adverse effects include:
Speech difficulties
Shifting teeth
An abnormal bite
Bone loss
Difficulty chewing
Wear on remaining teeth
Problems with the jaw joint
As your oral healthcare provider, we want you to stay as healthy as possible, so we make it a priority to ensure you have a complete set of functional teeth. In situations where only one or a few teeth are missing a fixed (non-removable) option is often possible. For patients who are missing all or many teeth, Dr. Patterson may recommend a removable appliance.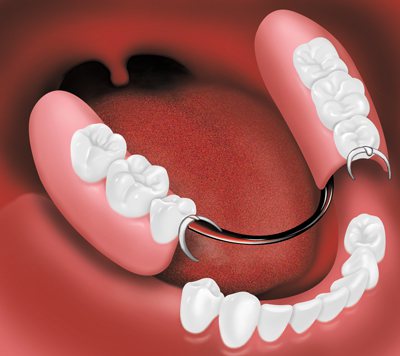 PARTIAL DENTURES
A partial denture is used to replace several missing teeth in proximity to one another. With a traditional partial denture, metal clasps are used to grab onto the surrounding teeth to hold the prosthetic device in place. Acrylic is added to the metal framework of the partial denture to replicate missing gum tissue and prosthetic teeth are added to function in place of the missing teeth. In some circumstances partial dentures may be made without a metal framework, either as flexible or hard acrylic partials. Implants may also be considered for use in helping to secure and stabilize a partial denture.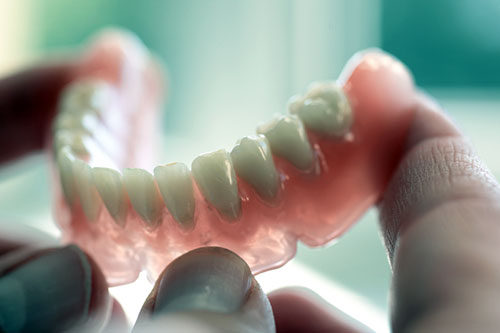 COMPLETE DENTURES
A complete denture is used when a patient is missing all of his or her top teeth or bottom teeth. Dentures consist of prosthetic teeth aligned in an acrylic base designed to simulate the lost gum tissue. The size, shape, color and positioning of the teeth is customized for each patient to provide optimal aesthetic quality and functionality for speech and eating. Success of a denture depends greatly on the supporting oral structures on which the denture rests. Patients who have a difficult time keeping a denture in place have the option of having implants placed. Once healed, the implants can be used to stabilize the denture and hold it in place. This is especially helpful for lower dentures where the supporting oral structures are frequently inadequate.

IMPLANT RETAINED DENTURES
Some patients opt to have their dentures attach to implants instead of having their dentures rest solely on their gums. Implants are placed by an Oral Surgeon. Most of the time we see 4 implants placed on the lower arch and 2-4 on the upper arch. Patients will either have the implants placed when all their teeth are extracted or once they are completely healed. Patients can even have implants placed after many years of denture wearing. Once the implants are fully healed, we can modify the current denture with implant abutments and attachments that connect the denture to the implants. The denture snaps onto the implants and requires no adhesive. Implant-supported dentures are a large investment, however, they allow the patient more confidence as they won't just fall out.