Crowns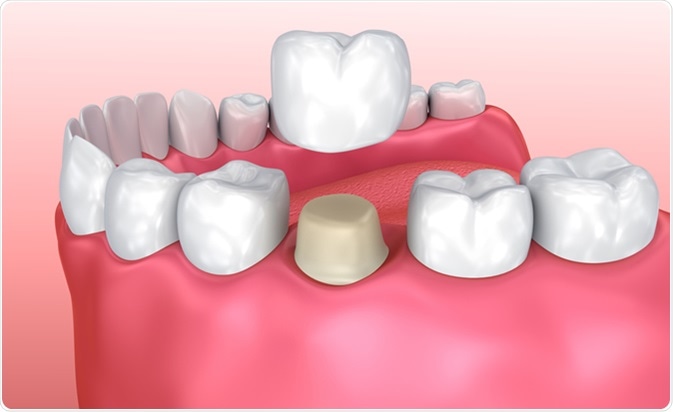 Our goal here at Mountain Springs Advanced Dental in Colorado Springs is to support all aspects of your dental health by providing thorough, customized dental care.
This includes keeping your smile in optimal condition both in terms of appearance and health. An important part of having a healthy set of teeth has to do with their functionality. Sometimes decay, fractures, chips or other damaging occurrences can negatively impact your tooth's internal structure, making it difficult to chew comfortably and effectively.
If this is the case, Dr. Patterson and our team do all we can to preserve the life of your tooth, and to keep your smile complete and healthy for as long as possible. One treatment we commonly use to fortify a fractured or weakened tooth is a dental crown.
Our Dental Crown Services
Our practice's in-house lab is equipped with a CEREC same-day crown machine, capable of delivering high quality, customized crowns in less than three hours.
First, Dr. Patterson will begin by preparing the tooth that will receive the dental crown and taking digital impressions of its surface. These will then be sent to the CEREC machine and milled from tooth-colored porcelain material.
Finally, Dr. Patterson will bond the dental crown permanently to your tooth's surface where it will function like a natural tooth.
Crowns are routinely used to treat:
Large fillings
Teeth that have had a root canal
Fractured teeth
Weakened teeth at risk of fracturing
Disfigured, chipped or severely stained teeth
Although CEREC is the most efficient and generally preferred method of fabricating dental crowns, we do offer other options.
Your individual preferences are important to us. We are happy to offer full-gold and PMF (porcelain fused to metal) crowns as well. If you have any questions about dental crowns or think you may benefit from a crown, we invite you to call our office today at 719-576-3661.
Bridges
Beyond making normal speech and chewing food more difficult, missing teeth can have a negative impact on your oral health as a whole.
When you lose a tooth, you also lose the support it provides to neighboring teeth.
This can cause the surrounding teeth to shift in your mouth, leading to crowding or an improper bite.
Our goal at Mountain Springs Advanced Dental in Colorado Springs is to ensure you have a complete, healthy set of teeth that will last a lifetime. In order to cater to your individual budget and preferences, our practice offers several solutions for missing teeth.
Our Dental Bridge Services
One of the solutions we offer is a dental bridge.
This is a prosthetic device that fills the gap left by a missing tooth by relying on the surrounding healthy teeth for support.
First, Dr. Patterson will begin the procedure by shaping the two surrounding teeth to receive dental crowns.
He will then take impressions of these teeth and create the necessary crowns using the CEREC machine in our in-office lab. These crowns, also called abutments, will be used to anchor the prosthetic tooth in place.
After they have been secured, Dr. Patterson will create a custom bridge, or pontic, to fill the gap. When the procedure is finished, your dental bridge will function as an artificial tooth while securing the placement of your other teeth and best dental bridges colorado springs.
If you are missing teeth, Dr. Patterson will consult with you about the different treatment options available and decide if a dental bridge is the best option for your individual needs, comfort, and budget.
If you have any questions about bridges or want to schedule an appointment, call our office today at 719-576-3661.